Attention all eligible bachelors and bachelorettes! It's almost Valentine's Day again, and if you want to give it a go with online dating on Valentine's day, your approach is essential. And make no mistake about it; there is definitely a strategy involved.
The sheer skill of flawless profile crafting and the seemingly unlimited alternatives available on dating apps may be a little much for first-timers to handle. If you're a hopeless romantic, you've probably been playing this game for what seems like forever without any actual results, yet you keep swiping because you still have hope.
A common thought among those burdened with the never-ending process of left-swiping is, "whatever happened to these unfortunate folks with dreadful profiles?"
As their downward spiral and mental distress increased, they began to wonder, "Would their chances have improved if they had been more willing to share information about themselves? Is it possible they don't realize what they're doing to themselves?"
If you feel even a little bit frightened after reading this, you might be committing the simplest profile mistake there is: Although your online and offline identities may be different, following these guidelines can help people recognize that your profile on any given dating app is just as unique as you are.
Here are nine ways to improve your experience of online dating on Valentine's day right now, courtesy of Bela Gandhi, creator of The Smart Dating Academy.
Make a Great First Impression
The first glance? It's everything. Your profile picture should be well-lit, focused, and vivacious to capture best who you are.
"In real life, you have 60 seconds to make a good first impression," Gandhi says. "On online dating apps, you have about .2 milliseconds! Your opening headshot and any visible text is crucial and to be strategic, think about your online profile as your 'personal marketing in cyberspace.'"
She added, "You need amazing photos that are real, current and that look like you. We build massive fantasies about our date based on their photos and messaging and the best way to ace the first encounter is to look just as good (or slightly better) than your photos!"
Use the Maximum Number of Pics for your Profile
Upload as many photos as the dating app allows! If potential suitors are impressed, they could want to see more of you in subsequent images.
If the site or dating app you're using has a restriction like this (not all do), then it's crucial to submit a wide range of photos of oneself, with significant variations between them. Share your travels and hobbies with the world, and demonstrate your wide range of wardrobe options.
Gandhi explains, "Stepped up looks work best! And if you can, have a friend or a photographer do a fun, chill photo shoot. Finally, change up at least one photo each week so the apps put you in front of more potential dates, since apps tend to favor profiles that are more active."
No Group Photos
You might care about your friends, but nobody looking for love will give a hoot about your close circle of buddies. You're trying to set up dates, so your profile should focus entirely on you.
"If we are wondering 'which one is he/she' in the photo, game over," stresses Gandhi.
Be Brief but Thorough
It is not appropriate or prudent to share every detail of your life on your dating app profile. In reality, online dating profiles should provide a quick glimpse into who you are and what you're up to at the moment. Literally speaking, where you originated from—your hometown, state, or nation—can be included, but stop there.
Talking about your life story and how you evolved into the fantastic person you are now is more suitable for date number two or three. While it is important to include as much information as possible, you should avoid writing a book.
Use humor and pithiness, but don't overthink things. Make space for the other person to ask questions and initiate a conversation with you. Make your profile upbeat, creative, and entertaining!
Be Truthful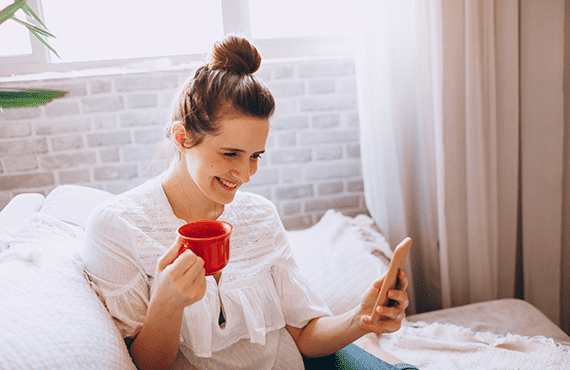 What are you searching for, a one-night stand or something more serious?
Think about what you want from online dating on Valentine's day, and be honest if it's more than one thing or if it could vary from day to day.
Whether you're seeking a casual encounter or a serious commitment, being upfront about your intentions here will go a long way toward avoiding unwanted emotions. Awkward!
One of the suckiest things that can happen is for two people to hit it off, have a fantastic conversation, and then realize they have very different values. Ouch!
Avoid wasting time matching for the wrong goals.
.
Being direct requires caution as well. Gandhi says, "When you're dating, look at peoples' profiles to see what they are looking for.
If it says, 'I don't know' or 'nothing serious,' that will tell you if they want what you want. And, as you get past the third/fourth dates (which is still very early), make sure that the person wants what you want.
If you're looking for love or marriage or kids, it's fine to say that after the first several dates."
Listen to your Gut and Swipe Right
Always take the initial step — into the unknown — if you're torn between liking and disliking something. In the beginning, Gandhi states that you need to have an open mind because there are pros and cons to online dating. "Unless you see any big red flags, swipe right." Gandhi adds,
"Many people look way better in person, or their personality makes them way cuter upon connection. If someone seems negative or says, 'I don't want any drama,' you may want to swipe left on those red flags because usually, a person that says they're not looking for drama is the one that will cause you the drama!"
Never rule out a potential outcome; instead, make a place for it. If you're even somewhat interested, pursue it to its end.
While this may not have an immediate impact on your profile, it might change who you match with and how giving you a reason to be more enthusiastic about your daily swipe. Make the first move with confidence and guts.
Honestly, anything could happen!
Have a Friend Approve your Profile
We all have (or should have) at least one dear friend who is a little too honest with you–like "mom" honest. A friend who will tell you that the picture you think you look amazeballs in is not the most flattering photo.
When it comes to evaluating how you come across potential partners, your true friends will never hold back. They are reliable sounding boards from that you can get third-party feedback that could help your dating profile sparkle. "Studies show that we are not the best judges of our photos," Gandhi notes.
"Have someone whose opinion you respect look at your photos to make sure you're really picking the ones that are best for you and have them read your profile for any possible negativity."
Upgrade to Premium Membership
Paying for a dating app does not mean you are trying to purchase love! It just means you are willing to go the extra mile (or dollar) to up your dating game. "Most apps charge less than $1/day," Gandhi says. "And, within apps, you can pay to 'boost' your profile or other features that could help you to be seen by more people! Experiment with different things: doing the same thing over and over again leads to the same old same old.

Use a trial version and scope out the benefits of how paid versions between sites and apps can give you an extra boost from time to time. Treat yourself!"