Our team of experts diligently research and review all of the products and services we recommend. If you buy through our links, we may receive a commission. Learn more here.
Curious about UkraineDate? We've got all the info on this Cupid Media niche dating app for you–we'll dish on who it's for, who it's not for, and examine every aspect of the platform!
Scrolling for love can be a real challenge – finding the perfect dating app that ticks all the boxes is no easy feat! But since we are dating app experts, we'll let you know if UkraineDate is worth your while or if it's a hard pass.
Let's talk about how UkraineDate can help you make friends overseas or find your perfect romantic match in our complete review of the UkraineDate dating app for 2023!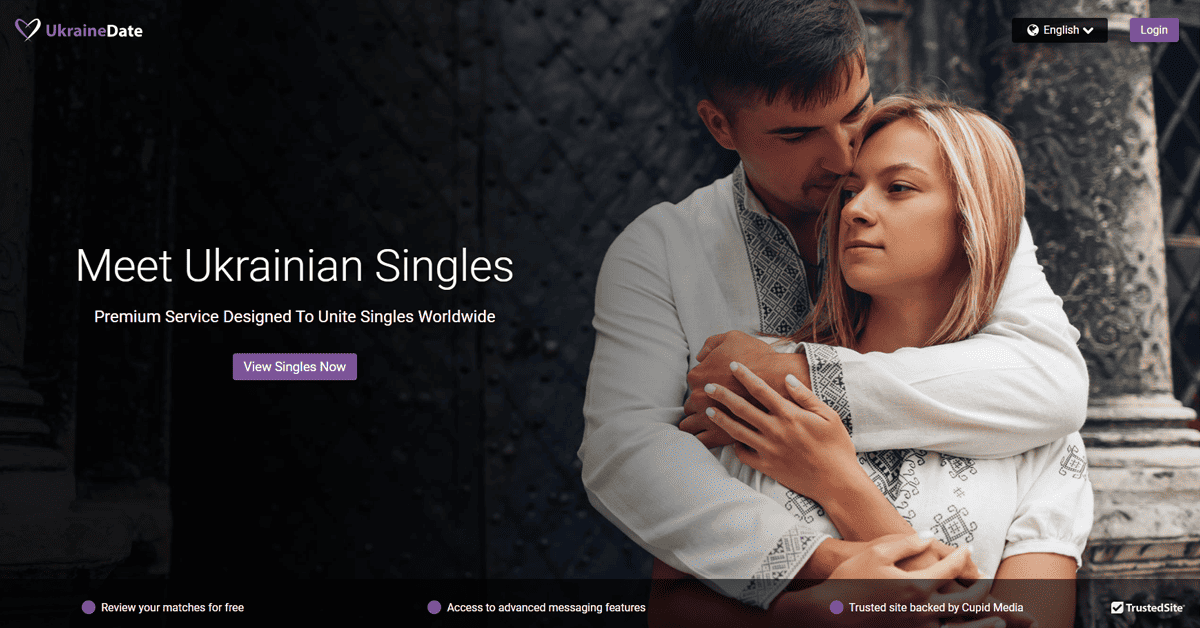 | | |
| --- | --- |
| Sign-Up Time: | 5 minutes or less |
| Cost: | $11.25 – $81.98 per month |
| Membership Pool: | 17,000 from the US |
---
---
Our UkraineDate App Rating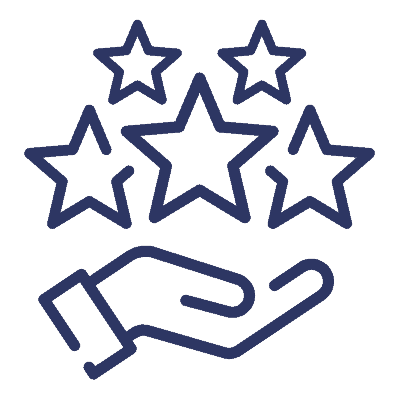 Overall Rating

UkraineDate is coming in with an overall score of 3.8 out of 5!
In order to evaluate the effectiveness of the UkraineDate Dating App as a dating platform, we ran it through our standard battery of five rating tests.
We evaluate each and every dating app we recommend using a wide range of factors, such as the number of users (overall and active), the cost of membership, how successful the matching process is, and the features that are available to members.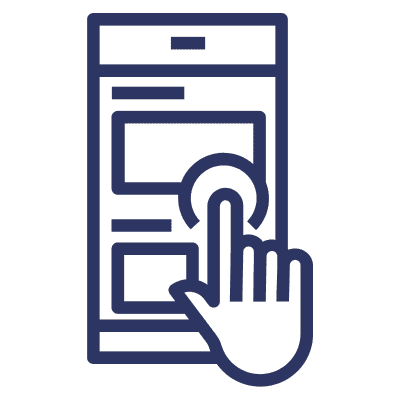 Ease of Use

UkraineDate is a super user-friendly and straightforward online dating app–Cupid Media, the company behind UkraineDate, understands that people looking for love online have enough on their plates without having to learn an entirely new way of going about it.
Cupid Media has made it a priority to standardize the design and functionality of its dating apps. After signing up for UkraineDate, users will not spend time or effort trying to figure out how to get around.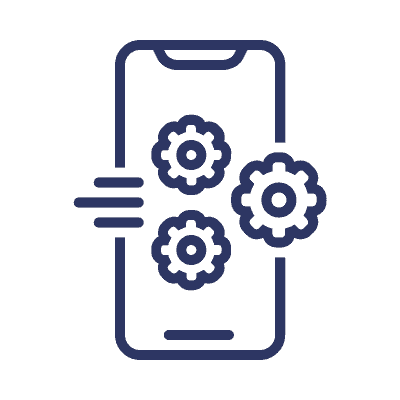 Features

We like how certain dating apps go above and beyond when it comes to valuable tools for their platforms, but we don't mind when they keep it simple! UkraineDate doesn't try to impress its users with fancy features. This means that UkraineDate's features aren't revolutionary, but they are practical and useful for those who use them! Instead, it helps its users make the most of their time on the dating app without being overwhelmed by unnecessary bells and whistles.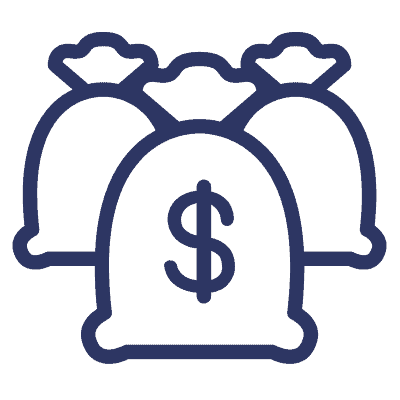 Cost


One of UkraineDate's best features is its wide variety of membership choices. With 12 various plans to choose from, practically everyone can find a subscription that works for their budget!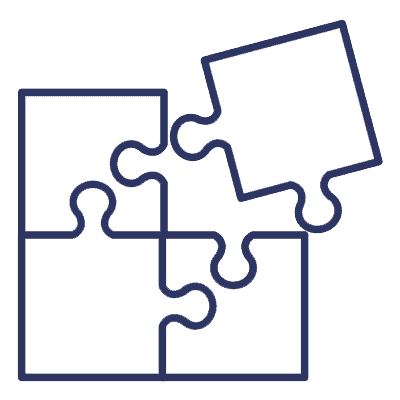 Match Quality


Even if the dating pool is on the smaller side, the quality of the matches is high. For example, UkraineDate's premium members have the ability to use Mutual and Reverse Matching, which further narrows the field for locating compatible partners, and we find the Cupid Media dating apps' pairing up process especially appealing because of their advanced filters for searching and geolocation features.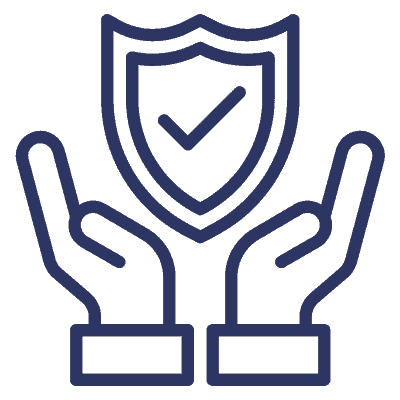 Safety and Security


UkraineDate's focus on offering a secure space for online dating is right up there with the best in the business, and the app's security measures are among the strongest in the industry. To guarantee the safety of its users, UkraineDate offers a toll-free helpline and a simple "report user" button.
UkraineDate is dedicated to respecting its users' privacy and will comply with all applicable local laws and regulations (apart from any information you voluntarily make public).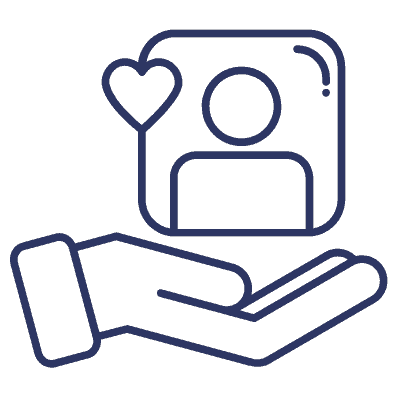 Customer Service


UkraineDate offers excellent customer service and support options. The dating app provides a FAQ page with responses to a variety of frequently asked questions, and you can also reach out to them via email if you have additional questions. You can reach UkraineDate's helpful customer service team between the hours of 9 AM and 4 PM (Australian Eastern Standard Time), Monday through Friday.
You can also easily use the "Help" section of the app or the link at the bottom of the page if you have any questions or concerns outside of regular business hours.
Although it was a nice surprise that the section was able to answer the great majority of our questions, a live chat feature would be referable.
Overview of UkraineDate
Looking for a way to expand your online dating horizons? Then you should definitely give UkraineDate a spin–you can connect with users from all corners of the world and experience a fresh take on online dating.
UkraineDate Fast Facts
Year Founded: 2000
You can choose to verify your account on UkraineDate to raise your chances of finding someone.
Average User Age: 31-39 years
Gender Ratio: 59% men to 41% women
It appears that Cupid Media hit the bullseye with this one – they founded the platform in 2000 and have gone on to create a ton of additional dating apps under its corporate umbrella. Cupid Media has the knack for promoting dating apps to a global audience and has cornered the market when it comes to helping US and foreign singles connect.
The website has a predominantly male user base, which implies that UkraineDate is more favorable for women to find ideal matches, and most users on UkraineDate are between 25-35 and are seeking serious relationships.
Premium Membership Subscriptions and Prices
The same set of features and prices are available across all subscription tiers for Cupid Media's dating applications. The three tiers of premium membership on UkraineDate are Gold, Platinum, and Diamond. The only feature that sets the more expensive plan apart from, the more inexpensive one, aside from the obvious differences in cost and time, is its capacity to translate messages.
| Package | Length | Price Per Month | Total Cost |
| --- | --- | --- | --- |
| Gold | 1 week | $69.48 | $17.37 |
| Gold | 1 month | $34.74 | $34.74 |
| Gold | 3 months | $22.49 | $67.48 |
| Gold | 12 months | $11.25 | $134.99 |
| Platinum | 1 week | $82.00 | $20.50 |
| Platinum | 1 month | $40.99 | $40.99 |
| Platinum | 3 months | $26.66 | $79.98 |
| Platinum | 12 months | $14.17 | $169.99 |
| Diamond | 1 week | $164.00 | $41.00 |
| Diamond | 1 months | $81.98 | $81.98 |
| Diamond | 3 months | $53.32 | $159.97 |
| Diamond | 12 months | $28.33 | $339.98 |
It's vital to keep in mind that each membership tier has an increasing number of perks, so as you move up the pricing scale, you'll have access to a wider variety of tools and services. All the advantages of the Gold Tier membership are still available if you previously belonged to the Gold Tier and upgraded to Platinum or Diamond.
UkraineDate is unique among dating apps since its premium customers can divide the cost of a year's subscription into four equal monthly payments. In order to initiate contact with other users, you may need to pay for some dating apps.
Does the UkraineDate Dating App Offer Free Trials?
Yes! As a standard free member, you can view the last online status of other users and see who has visited your profile. UkraineDate offers a freemium membership model, meaning you can sign up and try the service without any financial commitment.
Standard (Free) Features
Create an account
Make and customize a profile
Create search filters
Simple matching
Send other members "likes."
View the profile details and images of other singles
View and respond to messages that paying members have sent to you
Premium Membership Features
Message All Users
Free members can only message other members who have a paid membership. A green checkmark will appear next to the user's name on their dating profile to indicate that they are a paying subscriber (paid members can message anyone on the dating app).
Automatic Message Translation
Chatting amongst Platinum members is possible regardless of language barriers, thanks to an in-built auto-translation mechanism.
VIP Profile Highlighting
The distinctive Diamond emblem on your profile will make it clear to potential partners that you are serious about online dating and that you are subscribed to a premium paid membership.
Instant Messaging Chat
Put on your best live chat face and start typing; this includes video and text. Basic members must upgrade to Gold or Platinum to participate in the instant messenger chat feature with other users, but Gold and Platinum subscribers can do so with any member.
Message Filter
This unique function allows you to ignore certain messages–messages that pass the filter are automatically filed away in the filtered folder.
CupidTag
Make good use of this endearing feature to highlight the most compelling aspects of your profile. The best thing about the Cupid Network is the possibility that a compatible user will see your profile just because you share a similar tag!
Mutual and Reverse Matching Algorithms
Having access to exclusive mutual and reverse matching algorithms makes it much simpler for you to discover your perfect match.
Ad-free Dating Experience
No lengthy explanation is needed here–no annoying pop-up ads will interrupt your browsing with this premium feature!
Double the Profile Space
Platinum members get twice as much space for their profiles, allowing them to create a profile that better represents who they are as well as what they have to offer other singles!
Browse Anonymously and Hide Your Profile
Premium members can keep their photographs and profiles hidden from other users' views.
Rank Higher Than Other Members
It looks like there are advantages to being a paying member: higher placement in search results! Due to the rarity of fake profiles paying for memberships, this does double duty by increasing their profile's exposure and bolstering their credibility.
Do UkraineDate Memberships Renew Automatically?
If you don't cancel your membership, it will automatically renew at the end of the current period for the identical price and duration. To turn off auto-renewal, you'll need to log into your account's profile settings and follow the on-screen directions.
Should You Join UkraineDate?
If you are interested in UkraineDate and want to know more about the app's functionality and target audience, and to determine if it is worth downloading, then keep reading for a snapshot of the reasons you should join–and some reasons why you may not want to.
Reasons to Join
If you have been searching for a suitable dating app and believe that UkraineDate meets all your requirements thus far, that's great news! But if you are still uncertain about your decision and need more clarity before making a final choice, we get that–so we've listed some compelling reasons to sign up with UkraineDate.
Quick, Simple Sign-Up Procedure
Establishing a profile is free; it just takes a few minutes to do so. Though this may sway your decision to sign up, please remember that you won't be able to get much done in terms of communicating with other members.
Video and Chat Features
We love that one of the UkraineDate features is a live video and audio chat, making it easier to connect and actually see a potential love interest in real time! There is one caveat; this feature is only available to Gold and Platinum subscribers and is inaccessible to Basic members until they upgrade.
Proactive Fraud Prevention Team
UkraineDate's proactive fraud protection staff investigates all reports of fake profiles or scammers and eliminates them as soon as they pop up.
Message Translation
When you get a message written in a language you don't know, it will instantly be translated into your native tongue so you can read it! This is an excellent (and necessary) feature that will help you interact with people of different races and ethnicities so you can expand your search for love.
Reasons Not to Join
There are plenty of reasons to consider joining the UkraineDate dating app. However, we have also highlighted some reasons why you might be hesitant to make the jump below in case you are still not quite sure about trying it out.
Smaller Pools of Potential Partners
If you're looking for love in your own backyard, you might find the user pool a bit shallow on this international dating app. But it's not UkraineDate's fault they specialize in global connections–just keep that in mind if and when you register for an account!
Paid Messaging
One of the main disadvantages of the UkraineDate dating app is that it requires money to initiate communication with another user. Replying to members' messages is free in the basic version, but writing additional messages to a member you are interested in is not– a Gold, Platinum, or Diamond Membership is required for this.
Imbalanced Gender Ratio
A common criticism of UkraineDate is that it does not have enough ladies to satisfy its male customers' demands–this makes it hard for single men to find a partner online. Still, it's great for single women using the dating app!
If You're Not Interested in a Long-Distance Partnership
This may seem apparent, but we want to be sure that our readers are aware of the pitfalls of specific dating apps before they sign up. You shouldn't sign up for UkraineDate if you have no interest in dating Ukrainians or committing to a long-distance relationship. When looking for a relationship, if that's not something you want or will be comfortable with, you should go with a more localized dating app.
The Sign-up Process
UkraineDate's sign-up process is straightforward and quick; it takes less than five minutes to complete. There is no requirement to validate your email address; just enter your first name, email address, a strong password of your choosing, your gender, and date of birth.
Since there is presently no iOS mobile app, we signed up through the website's browser. However, Android users can download the dating app from the website.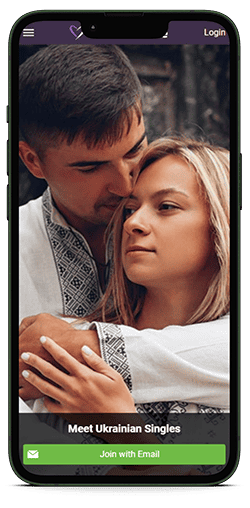 Step 1: Visit UkraineDate's Homepage
To begin, visit the UkraineDate website from your preferred web browser and click the "Join With Email" option.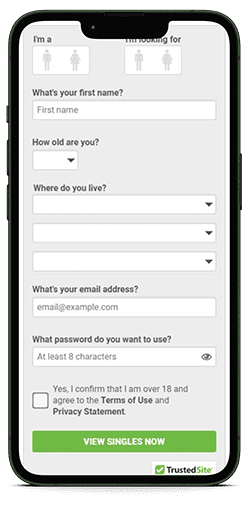 Step 2: Enter Your Basic Information
First, you'll need to provide UkraineDate with some basic information about yourself, such as your age, gender, location, and email address. When ready, hit the "View Singles Now" button to move on!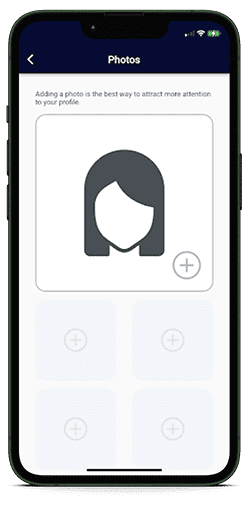 Step 3: Upload a Profile Photo
This step is optional, BUT, If you want to get a greater response from other singles on UkraineDate, you should include an attractive photo of yourself in your new profile. If you poke around the interface and try out some of the free services, you can get a good sense of the platform or its users.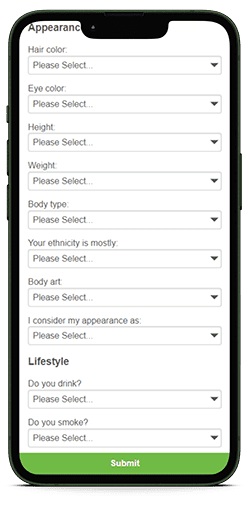 Step 4: Create Your Profile
Including detailed information about you in your profile's bio will pique other people's curiosity and increase your chances of finding love on UkraineDate, so fill out as many sections of your dating profile as possible! This way, other singles can get a sense of who you are and what you are searching for.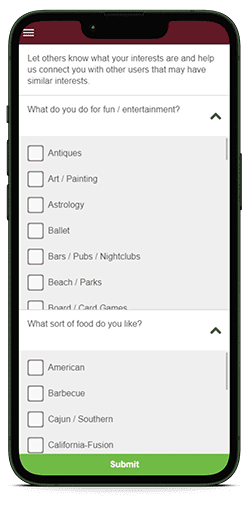 Step 5: Add Your Hobbies, Interests, and Dating Preferences
Your chances of attracting attention from other eligible singles on UkraineDate increase in proportion to the amount of detail you put into your profile–you should always include more to your online dating profile than just the bare minimum.
Don't forget to fill out the area where you write about your perfect match in terms of their values, beliefs, and habits so you can get the best compatible match.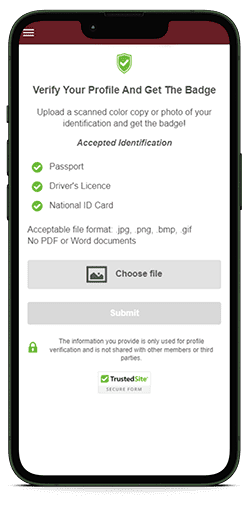 Step 6: Verify Your Dating Profile (Optional)
Although verifying a dating profile is not required, it will give your profile legitimacy and allow other members to see that you are who you say you are! You can upload a photo of yourself alongside an official piece of identification (such as a driver's license, passport, or national ID card) if you want to be verified on UkraineDate.
Step 7: Become a Premium Member (Optional)
UkraineDate offers a free version, but if you find that you need additional features and access, you can upgrade to a premium membership. Select your current membership level and then select the "Upgrade Membership" button to go to the next tier!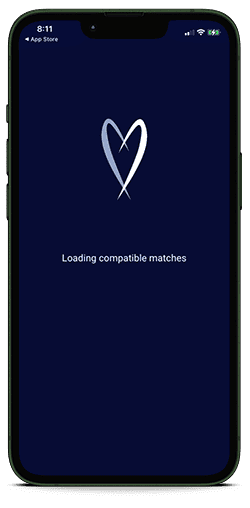 Step 8: Start Looking for Singles
Well, that's all, folks! You've completed the sign-up, and may the odds be ever in your favor as you embark on your romantic journey on UkraineDate!
Alternatives to UkraineDate
Well, if UkraineDate isn't your cup of tea, no worries! In today's world, finding love is merely a tap away with the wealth of dating apps available–feast your eyes upon the options below and see if any appeal to you!
Dating App
Key Facts
Review
Christian Mingle

Active Members: 16+ million
Gender Ratio: 44% men to 56% women
Best For: Christian singles looking for committed relationships
Pricing: Begins at $14.99/month

Christian Mingle Review
eHarmony

Active Members: 16+ million
Gender Ratio: 48% men to 52% women
Best For: All singles who want a serious relationship
Pricing: Begins at $35.90/month

eharmony Review
Elite Singles

Active Members: 2+ million
Gender Ratio: 44% men to 56% women
Best For: Highly educated and successful singles
Pricing: Begins at $31.95/month

Elite Singles Review
SilverSingles

Active Members: 800,000
Gender Ratio: 53% men to 47% women
Best For: People over 50 looking for relationships
Pricing: Begins at $24.95/month

SilverSingles Review
Zoosk

Active Members: 40+ million
Gender Ratio: 47% men to 53% women
Best For: All singles – Flirting, finding love, and getting dates
Pricing: Begins at $10.00/month

Zoosk Review
Frequently Asked Questions about UkraineDate
We try to provide the most useful information possible in our reviews of various dating apps. However, just in case you still have questions after reading our UkraineDate review, we put together this collection of frequently asked questions (FAQs) that we've gotten from readers.
Is UkraineDate a Legit Dating App?
Yes! UkraineDate's "Success Stories" page is full of couples sharing their stories of meeting their soul mates on the dating platform. Keep in mind, too, that paying for a premium subscription grants you access to additional features that will improve your experience searching for possible matches and utilizing online dating apps overall.
Is UkraineDate a Free Dating App?
UkraineDate's basic version is free to use, but if you're serious about finding love, you'll want to subscribe to a paid subscription to access premium features like sending and receiving messages.
Is UkraineDate a Safe Dating App?
It's a secure and safe dating app, but just like any other, it can attract scammers and fake accounts. If you encounter any suspicious accounts or detect a scam artist, contact the support team via the 'Help' button ASAP.
What Is UkraineDate's Matchmaking Process?
With the freemium version, the matching process on UkraineDate is based on the user's profile information and personal preferences–but if you upgrade to a premium membership, you'll have access to mutual and reverse matching algorithms!
How Do I Cancel My UkraineDate Membership?
Members can cancel their premium membership in their account's billing area, and they will still have access to all of the advantages of their premium membership until the following billing cycle.
Do I Have to Be Ukrainian to Join UkraineDate?
No, you just have to be 18 or over to create an account but keep in mind that most users are Ukrainian–which could be a reason to join if you want to find a Ukrainian partner!
What Forms of Payment Does UkraineDate Accept?
UkraineDate accepts several different payment types, including all major debit and credit cards, PayPal, bank transfers, personal checks, and vouchers, giving you a lot of flexibility in how you can pay for your membership.
Does UkraineDate Offer Refunds?
If you haven't used any of UkraineDate's premium features, you can request a refund within 30 days. UkraineDate encourages all members, regardless of satisfaction, to provide comments through the website's customer service section.
How Can I Turn Off Auto-Renewal?
You can stop auto-renewal by going to your account's home page and selecting "Billing" from the "Settings" menu; hit "No" beside "Auto-renew my membership?" and then hit the "Save" button. You will be prompted to confirm your selection; click "Switch off automatic re-billing." The automatic renewal of your membership is now disabled, and you can switch this choice back to "Yes" at any point in time.
Is My Credit Card Information Secure with UkraineDate?
Yes. UkraineDate employs secure socket layer (SSL) technology to protect any financial transactions, and the site will never give away or sell the data you provide without your permission.