Our team of experts diligently research and review all of the products and services we recommend. If you buy through our links, we may receive a commission. Learn more here.
MilitaryCupid is where love and combat unite. This dating platform is like a personal cupid, using your personal details and dating preferences to find your perfect match! Whether you're in uniform or just a civilian with an affection for those who serve this specialized dating app has got you covered in the love and romance department.
This Military dating app connects service members and civilians who have an appetite for dating those in the military. If you're eager to start dating other service members, you should join up on the double!
But if you need more information about MilitaryCupid before signing up, you've come to the exact spot! Put your boots on the ground and keep reading for our complete review of the MilitaryCupid app for 2023!
| | |
| --- | --- |
| Sign-Up Time: | 5 minutes |
| Cost: | $11.25 – $79.98 per month |
| Membership Pool: | 600,000 |
---
---
Our MilitaryCupid App Rating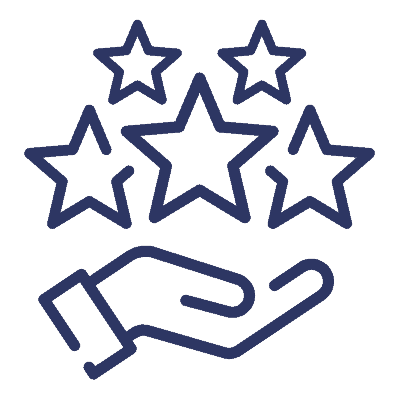 Overall Rating

MilitaryCupid is coming in with an overall score of 4.0 out of 5!
How did we rate eharmony as a dating app overall? There are 6 key components that we examined. We assigned an individual score to each primary category and took the average to reach our overall eharmony rating.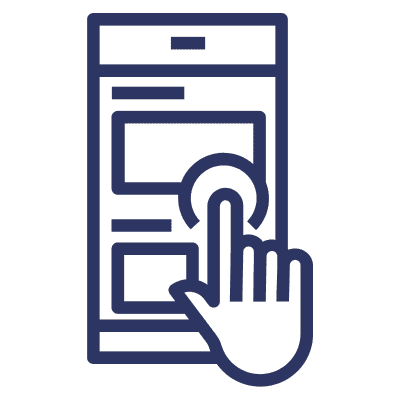 Ease of Use

The process of joining MilitaryCupid is simple, and registration is free–all users need is a valid email address, a couple of minutes, and a good photo to get started. There's a quick questionnaire to determine your personality type, but it's nothing like some of the longer, in-depth ones we've seen! Once you've set up your profile, the app is one of the most straightforward dating applications we've experienced.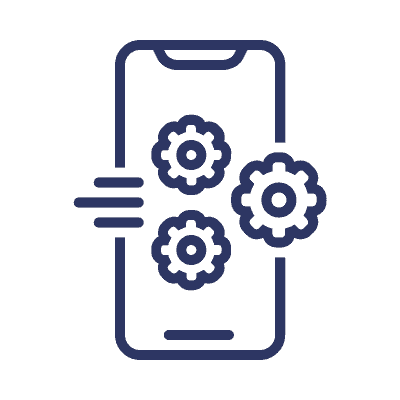 Features

MilitaryCupid, like other Cupid Media services, provides its members with an array of features to enhance their online dating experience. These components, from initial registration to added features, are necessary to give users the best dating experience possible.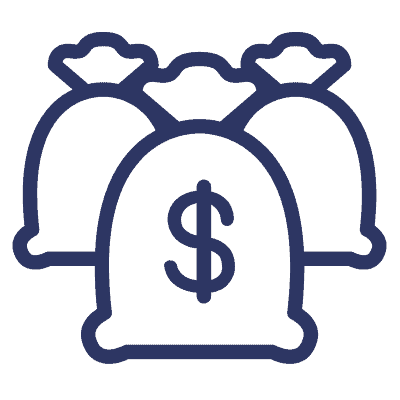 Cost


The price of MilitaryCupid is similar to that of other dating apps. We appreciate the flexibility of the platform's plans, which range from weekly to monthly. There is a wide variety of options available to ensure that everyone can find a plan that suits their needs.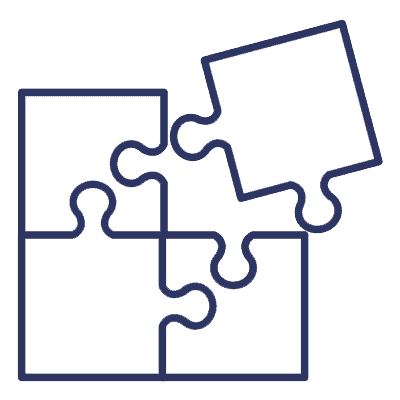 Match Quality


There are no personality tests or sophisticated algorithms behind MilitaryCupid–instead, it provides a large pool of potential suitors from who the user can choose. For this reason, MilitaryCupid's search criteria are crucial to the service, yet the platform restricts users to only three primary categories: location, age, and gender.
Only Diamond subscribers (the highest tier) receive access to the service's sophisticated dating algorithm. This is based on users' tastes but isn't as sophisticated as the personality algorithms used by other dating apps.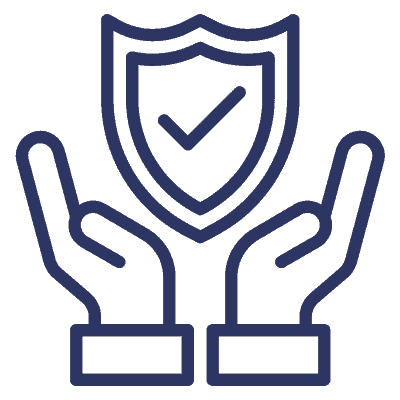 Safety and Security


MilitaryCupid, like countless other dating apps, cannot guarantee the safety of its users, and they should be aware of scammers and fake accounts. However, MilitaryCupid provides a toll-free helpline and an easy "report user" option for flagging questionable activity.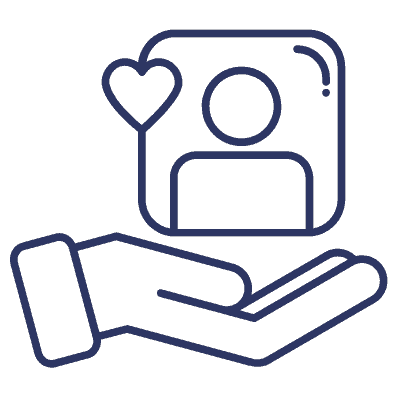 Customer Service


A whole section of MilitaryCupid's website is dedicated to offering customer help and support. They provide email assistance as well as a FAQ section that answers many of the most frequently asked questions–overall, we'd say that they have decent customer service options.
Calls are answered by MilitaryCupid's customer service representatives from 9 a.m. to 4 p.m. (Australian Eastern Standard Time) Monday through Friday. Outside those hours, you may contact customer support by utilizing the app's main menu or the link at the bottom of the page. The "Customer Support" tab will bring up a box that mimics a live chat window. Do not assume that you will be live-chatting with customer care, as this is just a search bar!
Overview of MilitaryCupid
Founded in 2006 and part of the mammoth Cupid Media, MilitaryCupid is a dating app where members of the military (or those interested in dating a military member) can connect. The average age of singles on the platform is between 24-49, and the gender ratio is 60% men and 40% women.
MilitaryCupid Fast Facts
Year Founded: 2006
For the safety of its members, MilitaryCupid locks their accounts after 20 minutes of inactivity
Average User Age: 34-49 years
Gender Ratio: 60% men to 60% women
Premium Membership Subscriptions and Prices
Membership fees at MilitaryCupid range from free to a few dollars per month, depending on the membership level and the amount of time you commit to the platform. Gold, Diamond, and Platinum memberships are available on MilitaryCupid.
| Package | Length | Price Per Month | Total Cost |
| --- | --- | --- | --- |
| Gold | 1 week | $67.48 | $16.87 |
| Gold | 1 month | $33.74 | $33.74 |
| Gold | 3 months | $22.49 | $67.48 |
| Gold | 12 months | $11.25 | $134.99 |
| Platinum | 1 week | $79.92 | $19.98 |
| Platinum | 1 month | $39.99 | $39.99 |
| Platinum | 3 months | $26.66 | $79.98 |
| Platinum | 12 months | $14.17 | $169.99 |
| Diamond | 1 week | $160.00 | $40.00 |
| Diamond | 1 months | $79.98 | $79.98 |
| Diamond | 3 months | $53.32 | $159.97 |
| Diamond | 12 months | $28.33 | $339.98 |
Their entry-level paid membership is the Gold membership. Live chatting, unlimited messages, ad-free browsing, and the option of hiding your identity are just a few of the premium features that come with this subscription. You can see from the table above that memberships become cheaper the longer you commit to them!
MilitaryCupid is one of the only dating apps that will allow you to pay off the total price of the membership in up to four monthly installments–most require the entire payment upfront.
Standard and Premium Features
MilitaryCupid differs from dating apps in that it does not provide a "free tryout" so that new users can use all of the premium features without signing up for a paid membership. The only perk of having a free account is an account of who visited your profile and when. All members' last active online dates are also visible to free users. In the same vein as other dating apps, new users can sign up for MilitaryCupid for free and have access to a portion of the features.
Standard (Free) Features
Create an account
Upload a profile photo
See who viewed their profile
Timestamp of when their profile was viewed
See when users were last active on the dating app
Premium Membership Features
CupidTag
With this handy feature, you can connect certain terms with your dating profile, and other users can then locate you by searching for those terms. When other users search for a term that's been tagged to you, you will show up in the search results.
Members Online
This feature displays a list of users that are online at the moment. Joining any of the Diamond, Platinum, or Gold tiers will greatly simplify communication with other members!
Matches
The profiles of your potential matches are displayed in a table-like format. You can find out all there is to know about a member by clicking on their profile on the left, and the member's preferences for potential partners are shown on the right.
Search
Here, you'll discover MilitaryCupid's advanced search functionality. If you want to get more precise in your search, you can use the "advanced search" feature. CupidTag is another option that allows you to search for people you're interested in based on their tags. Also accessible are "recent searches," "keyword," "first name," "saved searches," "popular searches," and "member number."
Message translation services
For a better dating experience, paid users can get their messages translated if they are matched with someone who speaks a different language!
Incognito Mode
To protect their privacy (or for any other reason), premium members can quickly make their profiles and photographs invisible to other users.
Profile highlighting
Put the Diamond emblem on your profile to show that you're a devoted dater! Doing so lets you communicate to others that you are an upgraded, paying member.
Instant Messenger
Using this premium feature, members can send instant messages to one another.
Do MilitaryCupid Memberships Renew Automatically?
Your MilitaryCupid premium membership will be automatically renewed when it expires, but you can disable this feature at any time from your account settings. If you cancel your membership before using any premium features, your payment method will be refunded in full. If you cancel your membership before the end of your subscription period, you will continue to have access to all premium features until the end of the current membership period.
Should You Join MilitaryCupid?
Always weigh the advantages and disadvantages before joining a dating app and paying for a premium subscription! Below, we've outlined the benefits of joining MilitaryCupid as well as some of the negative aspects.
Reasons to Join
To help you make an informed decision about joining, we've included all the information we gathered throughout the testing process in the full evaluation of MilitaryCupid. We think there are many great reasons why you should try the dating app.
Profile Verification
If a user wants to reassure other members that they are communicating with a genuine person on MilitaryCupid, they can verify their profile and get a badge.
Message Translation
When you get a message written in a language you don't know, it will instantly be translated into your native tongue so you are able to comprehend it. This means you are able to have meaningful conversations with people of many different ethnicities and cultural backgrounds.
Above-average Customer Service
We really appreciate MilitaryCupid's toll-free hotline and how quickly their customer service team addresses questions and concerns. We highly recommend any dating app that allows its users to communicate with a real person.
Extensive Search Filters
The search feature on MilitaryCupid provides an extensive array of search filter parameters users can narrow down who and what they are looking for!
Reasons Not to Join
While many benefits come with joining the MiIitary Cupid dating app, there are also a few drawbacks that we will address in case you are on the fence about signing up.
Not Just for Military
Despite being named MilitaryCupid, the dating app isn't a military-only dating platform; anybody can join as long as they are 18 years old.
No Mobile App for iOS
The mobile app is incompatible with Apple's iOS and is only available on Android devices.
No Free Messaging
One of the dating app's most significant drawbacks is that it costs money to initiate an exchange with another user. Although you can reply to members' messages for free with the basic version, sending messages isn't free. You must become a Gold or Platinum Member to do this.
Smaller Dating Pools
Although it is a specialized app for military dating, we don't consider this a disadvantage, but it should be considered before joining up!
The Sign-up Process
The registration process for MilitaryCupid is quick and easy; it took us just under five minutes. There is no need to verify your email address; just fill out a short form with your first name, a password of your choosing, gender, email, and date of birth.
Since there is no iOS mobile app, we opted to join up via the website's browser, but those with Android devices can download the dating app from the Google Play Store.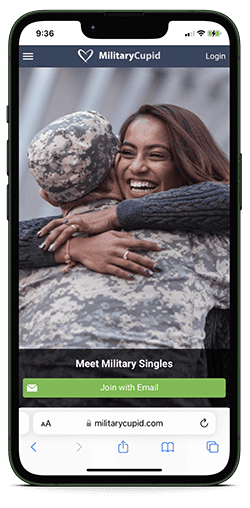 Step 1: Visit MilitaryCupid's Homepage
The first step is to log on to MilitaryCupid's homepage on your web browser and hit the green "Join With Email" button at the bottom of the page.
Step 2: Enter Basic Info
Next, provide MilitaryCupid with your age, gender, and location, as well as your email address and a password you've chosen for yourself. A green "View Singles Now" icon will appear; click it.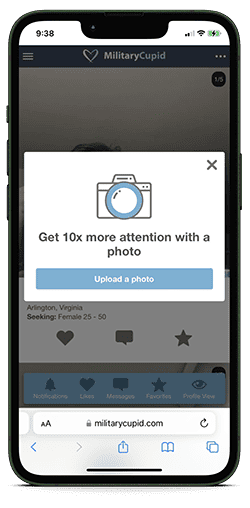 Step 3: Upload Your Profile Photo
Even though it's not required, if you're serious about meeting someone, you should definitely complete up your profile and upload a flattering profile photo.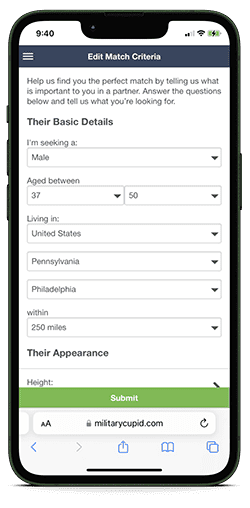 Step 4: Edit Match Criteria and Preferences
Next, you'll tell MilitaryCupid what you are looking for in a partner, such as where they are located, their physical appearance, their lifestyle, and their background/cultural values.
Step 5: Build Your Profile
Now answer some basic questions to build out your profile and let other members see what you are interested in!
Step 6: Verify Your Profile
Users can verify their profile but uploading a scanned color copy or photo of their ID and getting a verification badge so other members know you are legit!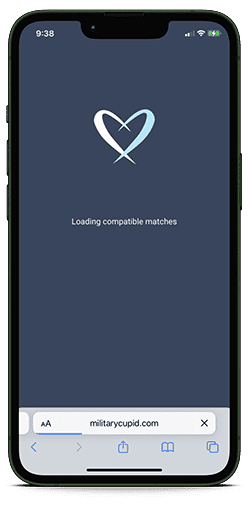 Step 7: Start Searching for Matches
You're all set up with a new MilitaryCupid dating profile! Now you can begin searching for other compatible singles.
Alternatives to MilitaryCupid
If you find that MilitaryCupid isn't the right dating app for you, that's OK! You can meet compatible singles who share your interests by using a number of dating apps. Check out the following list to see if any of them seem interesting.
Dating App
Key Facts
Review
Christian Mingle

Active Members: 16+ million
Gender Ratio: 44% men to 56% women
Best For: Christian singles looking for committed relationships
Pricing: Begins at $14.99/month

Christian Mingle Review
eHarmony

Active Members: 16+ million
Gender Ratio: 48% men to 52% women
Best For: All singles who want a serious relationship
Pricing: Begins at $35.90/month

eharmony Review
Elite Singles

Active Members: 2+ million
Gender Ratio: 44% men to 56% women
Best For: Finding highly educated and successful singles
Pricing: Begins at $31.95/month

Elite Singles Review
SilverSingles

Active Members: 800,000
Gender Ratio: 53% men to 47% women
Best For: People over 50 looking for relationships
Pricing: Begins at $24.95/month

SilverSingles Review
Zoosk

Active Members: 40+ million
Gender Ratio: 47% men to 53% women
Best For: All singles – Flirting, finding love, and getting dates
Pricing: Begins at $10.00/month

Zoosk Review
Frequently Asked Questions about MilitaryCupid
We try to provide the most helpful information possible in our reviews of various dating apps. However, just in case you still have questions after reading our MilitaryCupid review, we put together a list of frequently asked questions (FAQs).
What Is MilitaryCupid?
MilitaryCupid is a dating platform operated by Cupid Media, a global leader in the online dating industry. This platform is for service members and civilians who are interested in dating inside the military community.
Is MilitaryCupid Legit?
Yes! The launch of MilitaryCupid in 2006 came seven years after Cupid Media's inception. Since the platform's beginnings, things have operated pretty well, although there have been problems in the wider online military dating community.

Concerns have been expressed, in particular, concerning the misuse of these dating apps by con artists to defraud military personnel of their funds, rights, and privileges. Fortunately, there are numerous posts and suggestions available on MilitaryCupid that can help you in detecting and avoiding fraud.
Is MilitaryCupid Safe?
Like every other dating app, MilitaryCupid can't promise users full safety and security. Users can reach MilitaryCupid through a toll-free hotline or the app's straightforward "report user" option if they see suspicious behavior, but they should be vigilant about scammers and fake profiles.
What Kind of Dating Does MilitaryCupid
Help With?
It's obvious from both the members' profiles and the marketing materials that the primary purpose of MilitaryCupid is to help individuals find serious, committed relationships. Nonetheless, casual daters are more than welcome! Although the number of ratings from happy casual daters on MilitaryCupid is modest, it is increasing. As a courtesy to potential suitors, you ought to include your dating goals in your profile.
Is MilitaryCupid Worth Joining?
We think MilitaryCupid is valuable and that it may be an excellent asset for many single daters–Cupid Media sites are great because of their scalable pricing models, which allow users to pay for just the services they need.

The fact that the name itself describes what MilitaryCupid is all about is one of the many reasons we recommend it. Users are spared the awkwardness of being forward about their military service and worrying about how a prospective partner would react. As a whole, MilitaryCupid is ideal for a certain demographic since it removes the difficulty of finding a romantic partner while serving in the military and also offers some possibilities for international dating with its auto-translation functions.
Are the Majority of MilitaryCupid Users Really Active in the Military?
Users of MilitaryCupid are not needed to be currently serving in the armed forces; we don't have general numbers, but we do know that a large number of active military members are populating the dating app.
How Do I Cancel My MilitaryCupid Membership?
Users can do this under their account's billing area. Even if they cancel their membership, they will have access to all the advantages of their premium membership until their next billing cycle begins.