No one wants to be cheated on. It's one of the worst feelings in the world. You have to deal with the pit in your stomach when you suspect your man of cheating. But then, after you find out for sure about his infidelity, the feeling is ten times worse.
If you've experienced this terrible feeling, you understand that very little can make you feel better. It doesn't matter if you were in a long-term relationship or had only been dating for a few months; betrayal is a slap in the face. We don't mean a tap, either. We're talking a full-on Will Smith to Chris Rock open-palm face planter.
Unfortunately, cheating is more common than you think; even some might be born serial cheaters. But most times, it's a case of waiting on time to help you lick your wounds and soothe your aching heart.
If we could offer any comforting words, it might be that you're not alone. So many of us have experienced cheating in major and not-so-major ways, and here are some horror stories about the exact moment someone found out that their man cheated on them. For those that have been cheated on, there is some good news–most of those losers get caught!
How Some Women Caught Their Partners Cheating
1. Social Media
Many times guys get so comfortable around their partner's that even their cheating doesn't encourage them to keep their guard up.
In some cases, he leaves his Facebook open. Maybe he thought his girlfriend would automatically respect his privacy, but all we have to say is What a sucker!
If you're cheating, we don't care how comfortable or trusting you think women are. If given the opportunity–especially if they're already suspicious–they're checking.
2. His Wife
His wife informing the other woman is a common way for men to get caught. One woman worked at a University, so the job paid for her education. The cheater's wife showed up at the woman's job and started calling her obscene names. Of course, the woman didn't even know her boyfriend was married.
When the wife finished cursing her out, the woman's boss, fellow students, and all the professors knew everything. The woman almost lost her job and school funding because of the incident.
3. Family
Some women don't mind dating guys with kids, but if you're cheating, you should remember that children have the deadly combination of a big mouth and no filter.
In one instance, a guy's 7-year-old child let her dad's infidelity slip to his current girlfriend while she was taking care of her. As it turned out, the guy was cheating on his girlfriend with the ex-wife, the kid's mom. Our question is, how in the hell did the guy think he was going to get away with that for long?
4. Her Husband
The cheating partner's spouse often notifies the girlfriend or wife; this story is no different.
A woman suspected her serial cheater of a husband of infidelity again, but she didn't have proof. One day, the husband of a woman called her and asked if she knew that her husband was cheating with his wife. (Did you follow all of that?)
The wife's response to the informer was, "Sorry, but can you tell me who's your wife because he's cheating with quite a few women?" Drop the mic because we're done!
Obviously, this wasn't his first fling. If the wife stays, it won't be his last. Sometimes, it helps to recognize the signs that you're in a highly toxic relationship so you can move on as quickly as possible.
5. Email
The other woman he was sleeping with emailed his current girlfriend on New Year's Day. In the message, she stated that she had gotten wasted the night before and texted him that she was going to tell his current girlfriend everything that was happening.
That explained a lot. His current girlfriend wondered why he acted so weird and practically glued himself to his phone at their New Year's Eve party.
A few months later, she found out he had been cheating on her for months when she saw his profile on an online dating site looking for older women who were searching for younger men.
What's worse is that his profile pic was one they took together on vacation in Cancun. He cropped her out.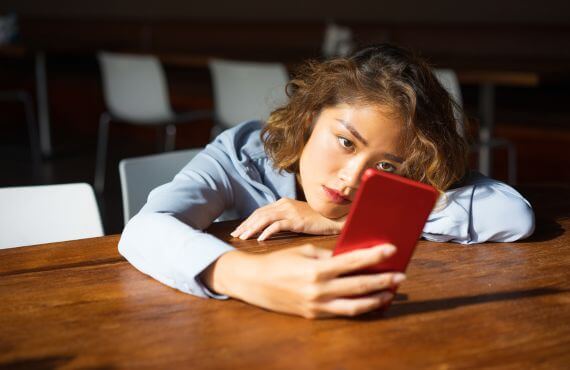 6. His Mistress Saw Them in Public
A woman was over five months pregnant, and she and her man were standing in the middle of the road watching the annual town parade.
The guy stood behind her with his arms lovingly wrapped around her. But suddenly, an onlooker walked up and punched the guy while shouting, "You are so busted, buddy!" It just happened to be the woman he was cheating on.
7. Synced up Phones
Sometimes guys are so confident they'll never get caught, and sometimes they don't care if their girlfriend finds out. In this case, it sounds like both.
A guy took pictures of the woman he was cheating with–not just any pictures, but naked ones. He forgot that he had synced up his phone to the Google Photos app. The X-rated pictures popped up on his current girlfriend's phone because they shared an account. Duh!
8. Poetry
A guy who writes poetry is nice–unless you write it for your mistress and leave it around the house for your girlfriend to find. In that case, it's not so nice.
This woman found the love poems he had written his mistress under his dresser when she was cleaning his place.
But wait, maybe they were written for her, and he was too shy to give them to her. (Are you laughing, too?)
Anyway, he referenced his current girlfriend in the poems and labeled her as the "girl he was stuck with" while thinking of his mistress. When he came home from work, his current girlfriend (now ex) promptly stated that he was no longer "stuck" with her. She packed her bags and left for good!
But if you enjoy karma, there is a happy ending. The girl he was so in love with married his best friend, so there's that.
9. Clothing
Guys can become so comfortable cheating that they leave pieces of their clothing at someone's house. If that wasn't bad enough, they might leave their girlfriend's clothing at another girl's house. That's when you really don't give a f–k! Check out the story below.
He took his girlfriend to a church group event, where she saw another girl wearing one of her shirts. It was a man's shirt with the name Def Leppard printed on the front that he sometimes wore to his girlfriends.
As it turns out, he wore it to the other girl's house and left it there, and she just happened to wear it to this church event.
The good news is that at least he attends church. The bad news? He must be sleeping through it.
10. Phone Call
These stories get bolder and bolder. This one has the cheater calling his current girlfriend from his mom's house with the mistress in the background.
Back in her college days, she met her first boyfriend. One weekend he went home to his mom's–who, by the way, she had met and loved.
Since he had been acting weird for the past week, she called him at his mom's. His mom answered, and they had a nice chat. When he got on the phone, she heard a girl's voice in the background, and when she inquired, he gave her the that's-my-cousin routine. They hung up.
Ten minutes later, the girl called back from her boyfriend's mom's house and told her everything unbeknownst to her boyfriend.
This let her know two things: the mom knew her son was being shady and that his new chick was petty.
This is another one of those karma endings because she ran into her ex years later, and he told her that he ended up marrying that same girl and having two kids, but she cheated on him with his best friend.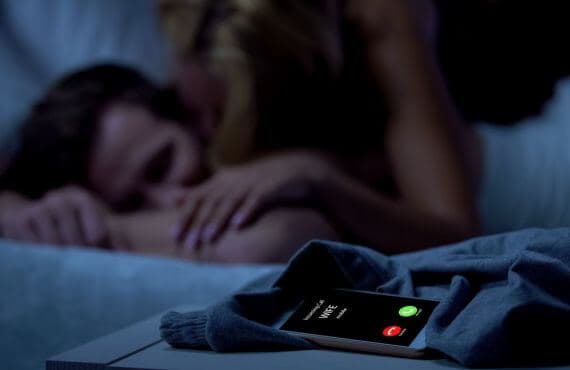 To this day, she's not sure why he told her that, but she was happily seeing someone and didn't care, but it did make her smile just a little.
11. His Friend Came Clean
She, her boyfriend, and the other girl had all worked together and were friends. The girlfriend had a sneaky suspicion her boyfriend was cheating on her but didn't have any proof.
She felt like some of her friends knew something was up, but they wouldn't tell her whenever she asked. Finally, one of them told her that they were, in fact, sleeping together.
Everybody at the job knew for several weeks without telling her. Eventually, they got pregnant with twins a couple of months later. He ended up leaving her with the babies shortly after they were born.
Sure, the cheating co-worker got her karma in the end, but sadly it was also at the cost of the twins. Make better choices, people.
12. Workplace Drama
This story comes from the other woman who had no idea that "her man" was in another relationship.
His girlfriend showed up at the place where they both worked. She had gone backpacking for several weeks and showed up to surprise him. He was surprised, alright! Not only had this girl been cheated on, but she was the other woman.
13. Caught in the Act
One woman came home early from work and walked right in on it. The funny thing was that she had been toying around with the idea of an open relationship, but he said he couldn't deal with that.
It turns out he could deal with it, just not for his girlfriend. Go figure! It doesn't get more cliche than that, but that's exactly what happened.
14. Texting Technology
This woman's ex-fiancee had an iPhone and a Macbook. If you understand iMessage, he can send and receive texts from his laptop.
With his permission, she used his laptop to do her homework while he was at work. He received a text message from his ex, whom he still talked with regularly.
The girlfriend was uneasy with his ex since, according to her boyfriend, she was "the one that got away." But his ex was now married, so her boyfriend insisted he just saw her as a good friend. His current girlfriend chose to believe that and trust her man.
That day, the text his ex sent seemed strange. It was one of the random ones saying, "Just texting to say I love and miss you." It only popped up in the corner for her to read, so she opened the messages and found hours of sexting messages.
She even found some from that morning, when she had slept next to him all night, and they cuddled and kissed goodbye. When he got home from work, she was gone.
15. The Math Ain't Mathing
One girl found out her ex had cheated via Facebook several months after breaking up with him. She was still friends with his parents and siblings, and they were all tagged in some photos of him holding a full-term newborn son–LESS THAN nine months after she broke up with him.