Happy summer! We could all use some encouragement and inspiration when it comes to our summer romance stories or lack thereof. So, why not try one of these romance tv shows!
If you're anything like me, there's nothing better than settling into a couch and getting lost in a love story. There's a reason why TV and movies are often so magical. But if you're an avid watcher and binger, you might be at a loss for what to watch right now.
Thankfully, with the help of all the streaming platforms, there's no shortage of amazing TV shows that you can watch to inspire your summer romance. Whether you're hoping to gain some inspiration from TV's most exciting love stories or you just want to watch something that brings you some lighthearted joy this summer, we hope that our suggestions can inspire your summer love this year.
If you're curious about some of the best summer romance tv shows that you should watch this season, keep reading!
---
The Summer I Turned Pretty
If you haven't watched Amazon Prime's The Summer I Turned Pretty, you're in for a treat. The series follows a teenage girl, Belly, who visits her summer house with her family and her mom's best friend's family. And thankfully, her mom's best friend has two wonderful sons, both of whom are interested in Belly.
The show takes place in the perfect beach town and has some of the best artists on the soundtrack. Season two comes out on July 14th, but if you can't wait, you can binge all of season one right now. The Summer I Turned Pretty became an instant classic when it was released last year, and the show will transport you to simpler and more magical times.
---
Queen Charlotte
Let's travel back in time this summer and watch a Regency-era-inspired TV show about love, mental illness, and gowns that are to die for. The creators of Bridgerton came out with a new show just in time for the spicy days of summer. Queen Charlotte is the story of how the Queen in Bridgerton became a wife and came to reign.
While this story is far from lighthearted, it will captivate your heart and inspire you to take a chance on love. The show is truly transformative, and everyone who has seen it instantly falls in love with the characters and the story. Not to mention the added benefit of a few spicy love scenes thrown in! Queen Charlotte is the perfect show to add to your summer watch list.
---
Grease: The Rise of the Pink Ladies
This show is absolutely perfect for the long, hot days of summer. Not only will viewers immediately get sucked into the politics of who will win Rydell High's school election, but they'll also become entranced with the high school romances that each of the four pink ladies start exploring between their classes. If you love the nostalgia that Grease reminds you of, you need to watch this show and get swept up in the musical magic once more.
Grease is still the word, even almost fifty years after the first release. Paramount+'s Grease: The Rise of the Pink Ladies tells the story of the original Pink Ladies, the girl gang at Rydell High, who is ready to rule the school with their pink jackets and explosive personalities.
---
Never Have I Ever
Devi is a first-generation Indian-American teenager who is not only trying to find out what her identity is but also trying to figure out romance for the first time in her life. Through a series of ups and downs, romances, and terrible interactions that she would like to never repeat again, Devi not only finds love but herself throughout the show's running time. Never Have I Ever is the perfect summer show to sink your teeth into and enjoy teenage romance vivaciously through your screen.
In our eyes, Mindy Kaling can do no wrong, especially when she's writing a Netflix hit TV show based on her life. Never Have I Ever just wrapped its final season, so it's the perfect time to binge the show and fall in love with the characters Kaling created.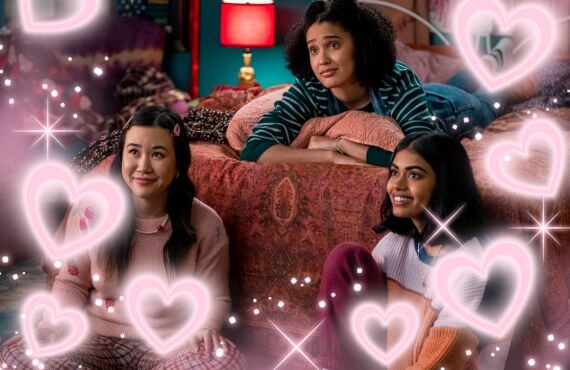 ---
Emily in Paris
Let's take our love global, oui? Emily in Paris is the updated version of Sex and the City that this generation needs. When Emily Cooper gets a job in her company's Paris office, she realizes that she might be lost in translation in more ways than just the language.
As the series progresses, Emily finds her footing in Paris, as well as several suitors and hundreds of spectacular outfits, and starts chasing after the life she's always dreamed of. Emily in Paris is the perfect show to watch when you want to escape from reality for a bit and dream about all the possibilities that your life can hold.
---
The Takeaway
While nothing is better than settling into your cozy couch and binging a summer romance series, don't get so caught up in the on-screen love that you neglect your own possible passionate romance! The best part? You can do it from the comfort of that comfy sofa–just hit pause–we promise you can go back to watching after you look after your needs.
How can you do that, you ask? It's easy! Just hop on your fave dating app! And if you don't have one, we have some great recs and everything you need to know about the best dating apps out there.