Philadelphia. The City of Brotherly Love. The place where The Italian Stallion ran up all those steps in the Oscar-winning movie Rocky. And the Liberty Bell is there too!
While Philly is known to be a melting pot of people, culture, and historical events (they signed the Declaration of Independence there, geez), what people might not know is that it also knows a thing or two about setting the mood for romance. Tucked between its historic landmarks and bustling streets lies an exciting culinary world that redefines the definition of a romantic date night.
So if you want to stray from the been there, done that, typical candlelit dinner, Philly's got your number.
Let's set the table for a romantic journey through the streets and flavors of Philadelphia.
From the quirky to the elegant, hidden gems to the showstoppers, Philly's dining scene invites couples to experience more than just a meal–it calls for conversation whether you are on a first date or with a long-time love–a night in Philadelphia is a savory experience.
Here's a curated list of 10 extraordinary (and some out of the ordinary) date spots, promising not just flavors that please the palate but an experience that'll stay on your mind long after the plates are cleared.
Note: The price scale of each restaurant is rated on a scale of $ (least expensive) to $$$$ (most expensive).
If you are looking for some romantic date night restaurants in Philadelphia, you should always check a restaurant's current menus or websites for the most up-to-date pricing and fare before making a reservation!
---
Suraya
Fishtown, Philadelphia
Celebrated for its Lebanese fare, Suraya offers an experience of rich flavors and traditions. Their menu is a delightful showcase of mezze dishes, fresh bread from their in-house bakery, grilled meats, and seafood. A must-try is their flavorful kibbeh and aromatic lamb dishes.
Reflecting the vibrancy of Beirut, Suraya's interior is a mix of modern design and traditional Lebanese touches. The restaurant is spacious, with a market area at the front, a more formal dining area, and a beautiful outdoor garden space, which becomes particularly enchanting in the evening. The combination of hanging plants, soft lighting, and Lebanese music in the background creates a warm and inviting atmosphere.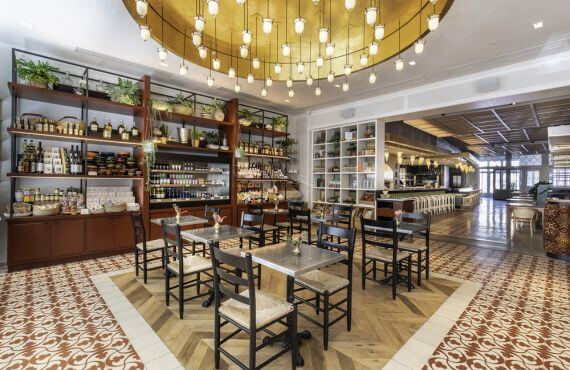 Suraya is located in the growing Fishtown neighborhood, making it a perfect spot for young couples and those looking for a trendy yet authentic Middle Eastern dining experience in Philadelphia. Remember, given its popularity, making a reservation is a good idea, especially for date nights.
---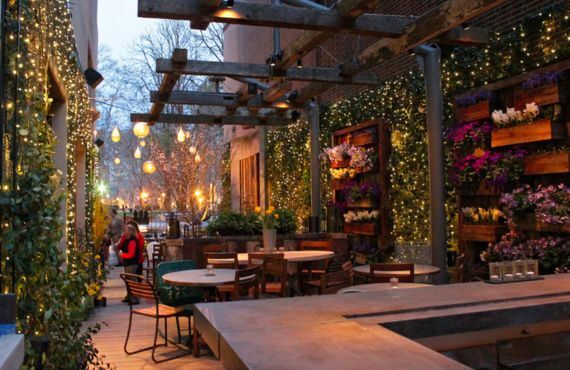 Talula's Garden
Washington Square, Center City, Philadelphia
Cuisine: American/European
Talula's Garden offers farm-to-table cuisine, highlighting the freshest seasonal ingredients sourced from local farmers and artisans. The menu is a celebration of American fare but with a touch of rustic European flavors.
Expect dishes that are both familiar and inventive—from artisanal cheeses and fresh salads to beautifully plated main courses that might include seafood, poultry, and meats. Desserts, too, are a standout, often showcasing classic American flavors with a twist.
Talula's Garden is a tribute to the romance of garden dining. Situated right in Washington Square, the restaurant offers a beautiful outdoor seating area that comes alive in the warmer months. The garden space is adorned with twinkling fairy lights, lush greenery, and blooms, making it a truly enchanting experience. Rustic wooden tables, comfortable wicker chairs, and the gentle hum of conversation under the canopy of trees set the stage for a serene dining experience.
The indoor space echoes this charm with its farm-inspired decor, intimate seating, and large windows that let in an abundance of natural light. Together, they create an atmosphere that feels both rustic and refined, perfect for a romantic evening.
Dining at Talula's Garden, especially in the outdoor area, offers a delightful escape from the urban grind, making it a perfect choice for date nights or special occasions in Philadelphia.
Nestled behind Talula's Daily, this clandestine spot serves seasonal dishes that tell a story. The ambiance feels like a fairytale book – enchanting, secretive, and utterly captivating. Whisper sweet nothings amidst blooming flowers and twinkling fairy lights.
---
El Vez
Center City, Philadelphia
El Vez offers modern Mexican cuisine, putting a delightful twist on traditional favorites. Their menu boasts a variety of fresh guacamoles, classic tacos with innovative fillings, and a plethora of other dishes that play with bold flavors and fresh ingredients. Their margaritas and other cocktails are also a highlight, making sure the dining experience is flavorful from start to finish.
Vibrant and energetic best describe El Vez. The interior is adorned with colorful decor, eclectic artwork, and a bustling central bar that often becomes the heart of the restaurant. Circular booths and a mix of traditional seating arrangements give diners options depending on their mood.
One of the most talked-about features is the photobooth, which adds a touch of fun and quirkiness to the dining experience. The atmosphere buzzes with liveliness, making it perfect for both group outings and intimate dates.
Located in the Midtown Village area of Philadelphia, El Vez provides a vibrant atmosphere coupled with delectable food, ensuring a memorable date night without having to spend a mint!
---
The Franklin Fountain
Market Street, Center City, Philadelphia
Stepping into Franklin Fountain is like taking a delightful trip back in time to the early 1900s. This vintage ice cream parlor in Old City, Philadelphia, exudes an authentic turn-of-the-century charm.
From the antique wooden cabinets, vintage tin ceilings, and period-appropriate light fixtures to the staff dressed in bow ties and boater hats, every detail harks back to a bygone era.
The menu, handwritten on large mirrors, showcases an array of classic ice creams, sundaes, and sodas made using traditional methods. The atmosphere is bustling and jovial, with patrons of all ages eagerly waiting their turn to savor timeless frozen treats.
The hum of conversation, the clinking of soda fountain glasses, and the old-timey music playing in the background complete the nostalgic ambiance.
The Franklin Fountain: Sure, it's an ice cream parlor, but who said date night needed three courses? Turn back time with this retro spot, where you can share a sundae or float and reminisce about the good ol' days, even if they were just last week.
Franklin Fountain offers not just ice cream but a full-fledged experience of old-world charm and flavors. Perfect for a sweet date night or a whimsical dessert stop, it's a place that promises memories as rich as its ice cream.
---
Le Cat Cafe
W. Girard, Brewerytown, Philadelphia
Le Cat Café, inspired by the cat cafes of Europe and Asia, is a cozy oasis in Philadelphia where feline enthusiasts can indulge in two of life's great joys: coffee and cats. The interior is intimate and homey, with a variety of seating options, from sofas to cushioned chairs, all arranged to maximize interaction with the resident cats.
Shelves, climbing structures, and cozy hideouts for the cats are integrated into the décor, ensuring the felines are always within reach or in view, playfully darting around or lounging lazily. The walls, adorned with cat-themed art and soft, warm lighting, create a calming and inviting atmosphere. The gentle hum of patrons chatting, the soft purring of cats, and the occasional playful meow fill the air. It's a relaxed, unpretentious setting where the joy of companionship—both human and feline—is celebrated.
Calling all feline enthusiasts! If you and your date are cat lovers, this café will make your hearts purr (sorry, pun intended). While sipping on coffee and nibbling on pastries, you can mingle and cuddle with the resident kitties.
Le Cat Café is more than just a cafe; it's a lovely experience for cat lovers and those looking for a serene escape from the hustle and bustle of city life. Plus, with its mission rooted in promoting cat adoptions, every visit supports a wonderful cause.
You might just come home with a new fur-ever friend.
---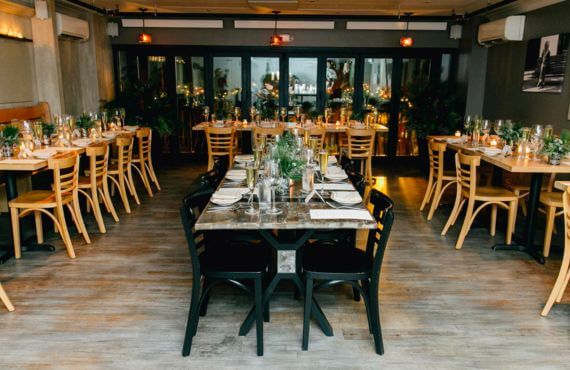 Vernick Food & Drink
Rittenhouse Square, Center City, Philadelphia
Vernick Food & Drink presents a contemporary American menu influenced by Chef Greg Vernick's culinary experiences and travels. The food emphasizes fresh, high-quality ingredients and often features a delightful play on textures and flavors.
The menu is divided into sections like "Toasts," "From the Sea," and "Meat & Poultry," with each dish showcasing a perfect balance of simplicity and innovation.
Dishes might range from unique toasts topped with various seasonal ingredients to perfectly cooked fish or meats with flavorful accompaniments.
Located in a charming Rittenhouse Square townhouse, Vernick Food & Drink strikes a balance between sophisticated and cozy. The restaurant's interior showcases a mix of modern design and rustic touches.
The open kitchen allows diners to witness the culinary ballet that happens behind the scenes, adding to the vibrant energy of the place. The wooden accents, subdued lighting, and carefully curated decor give it a warm, intimate feel. Upstairs, the dining area is quieter, ideal for intimate conversations, while the downstairs offers a lively bar scene.
It's worth noting that while Vernick Food & Drink is undoubtedly upscale, many diners find the value to be commensurate with the experience — the quality of the dishes, the ambiance, and the attentive service all contribute to its reputation as one of Philadelphia's standout dining spots.
Vernick has been a favorite among Philadelphians and visitors alike for its impeccable service, innovative dishes, and the kind of ambiance that makes any evening feel special. Whether you're celebrating a milestone or just indulging in a top-tier dining experience, Vernick Food & Drink offers an atmosphere and menu that won't disappoint. Remember, given its popularity; reservations are highly recommended!
---
Pat's King of Steaks vs Geno's Steaks
South Philadelphia
Pat's: 1237 E. Passyunk Ave (at 9th & Wharton Sts), South Philadelphia
Geno's: 1219 South Street, South Philadelphia
Both Pat's and Geno's are legendary for their Philly cheesesteaks. These are long, crusty rolls filled with thinly sliced sautéed ribeye beef and melted cheese. While many toppings are available, the classic is often served with fried onions. The main differentiator between the two establishments often boils down to personal preferences in the beef's cut and the roll's texture.
Both spots offer a no-frills, authentic Philly experience. They're both open-air, with bright neon signs, making them hard to miss. The atmosphere, especially during peak hours, is bustling, with a mix of locals and tourists lining up to get their cheesesteak fix.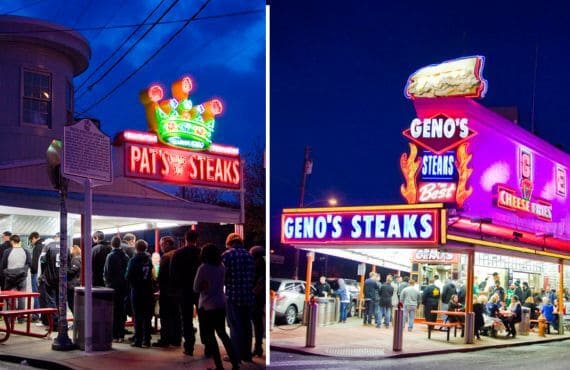 There's a palpable energy, especially when sports games are on, as passionate Philadelphians debate over their favorite teams and their favorite cheesesteaks.
For a true Philly experience, many visitors get a cheesesteak from both and decide on their favorite. While we have a clear fav, we cannot mention it here because Philly fans (sports and Pat's vs Geno's) who have been known to get, how can we say this nicely, heated (violent–they threw batteries at Santa Claus) are divided on the whole "best cheesesteak" spot, so it's wise of us to keep it to ourselves.
Situated just across the street from one another in South Philly, the rivalry between Pat's and Geno's is fierce, and each has its legion of dedicated fans. It's a fun, delicious, and iconic part of Philadelphia's culinary landscape, and if your SO or dating app match doesn't think devouring a hot, mouth-watering cheesesteak while looking out over the Delaware River is a romantic date, then they have no taste.
And this is important—when ordering, use the local lingo–"wit" or "witout" refers to onions, and specify your choice of cheese–but you'll get strange looks if you don't pick the Cheeze Wiz!
---
Vertri Cucina
Spruce Street, Center City, Philadelphia
Renowned for its artisanal Italian dishes, Vetri Cucina offers an exquisite dining experience that takes you on a culinary journey through Italy. Chef Marc Vetri's menu evolves with the seasons and incorporates fresh, high-quality ingredients.
Expect handcrafted plates of pasta, inventive antipasti, and impressive main courses that capture the essence of authentic Italian cuisine.
Situated in a historic townhouse, the intimate dining room, with its warm wooden interiors and elegant fixtures, evokes a sense of Old World charm. The personalized service and attention to detail make for an unforgettable experience.
---
Takeaways
Philadelphia is brimming with innovative culinary experiences that go way beyond mere food. So the next time you're looking to plan a romantic date night, try your luck at one of these bougie (upscale) or off-the-beaten-path quirky spots.
Not only will you tantalize your taste buds, but you will also have an amazing night out that's rich with history–you can even run up the "Rocky" steps if you ate a little too much. 
Still looking for that "special someone" to experience ALL the places with? Why not start with some of our best dating apps?