Regarding date night possibilities, New York City is hard to beat. The main challenge of going out with a potential romantic match you met on a dating app, a current partner, or even an old flame is deciding where to go and avoiding the pricey, mundane menus that lure in naive tourists and locals alike.
We also won't say that midtown Manhattan is the only spot in the five boroughs to get delicious food and drink. It definitely has the lion's share, for sure. But hey, our picks of the best date night restaurants in NYC aren't just about fancy European dinners or boozy hangouts (although we're not saying no to those either).
Instead, we'll attempt to whet your appetite with a few off-the-beaten paths and out-of-the-ordinary restaurants that will make an excellent impression on anybody you care about enough to spend your time and money on.
A change of location for a date night might be all it takes to reignite a fizzled-out spark or create fire with a new flame!
So, without further adieu, here are the best date night restaurants in NYC in no particular order. Bon Appetit!
Note: The price scale of each restaurant is rated on a scale of $ (least expensive) to $$$$ (most expensive).
---
Seaport, Manhattan
Cuisine: American, Seafood
Have you heard of The Fulton? It's a restaurant created by the famous chef Jean-Georges Vongerichten. You have GOT got to check out this restaurant located right on Pier 17 in the Seaport neighborhood. It's the perfect spot for a date night, especially if you're in the mood for some delicious seafood.
It's perfect for a dinner date while you watch the sun go down against the scenic Brooklyn Bridge.
---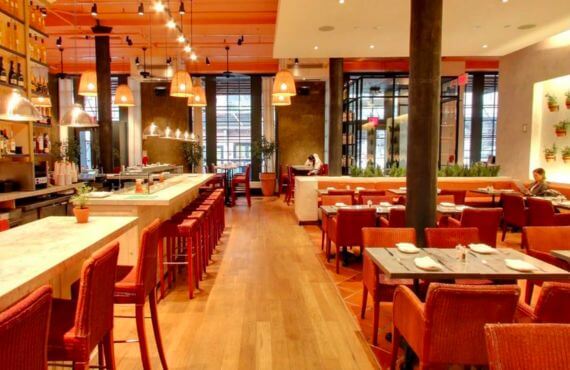 Chelsea, Meatpacking District, Manhattan
Cuisine: French-Mediterranean
With its chic eateries, art galleries, luxury boutiques, lively nightlife, and convenient proximity to Chelsea Market, New York City's Meatpacking District is the perfect location for a date. The French-Mediterranean fusion restaurant Fig & Olive and the elevated outdoor park the High Line, formerly a freight line but now home to sculptures and breathtaking vistas, can be part of a full evening out.
The cuisine changes with the seasons and is based around olive oils and tastes from the southern part of France.
---
Greenwich Village, Manhattan
One If By Land, Two If By Sea is the best spot to go if you want to treat yourself to an extravagant meal–this Greenwich Village restaurant is often considered to have the best American food in the entire city and has a romantic vibe with its candlelit tables–guaranteed to wow a date.
The West Village's One If by Land is an upscale American restaurant that boasts "peak romance with every meal," and it does not disappoint as a traditional New York City date night destination.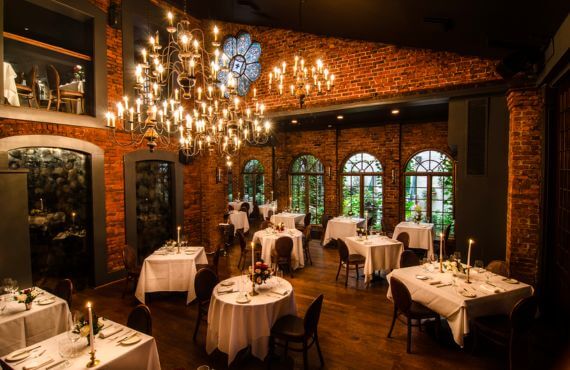 The "romance-inspiring plates" (oysters, beef Wellington, topped off by a delicious dessert of chocolate soufflé) at this eatery led Architectural Digest to label it one of the world's most romantic dining spots.
---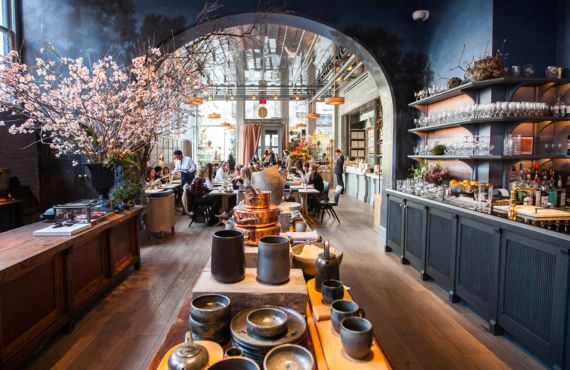 Soho, Manhattan
La Mercerie's beautiful French ambiance makes it the ideal setting for a Sunday brunch with a date, whether it's a first date or you just want a romantic midday meal with your partner.
Located in the heart of Lower Manhattan, this fine dining spot serves perhaps the most sumptuous crêpes in the city. While you're there, sample some of the wine or one of the specialty cocktails they offer.
---
East Village, Alphabet City, Manhattan
Don't want to go into debt for one date in NYC? We kid, we kid (some restaurants in Manhattan can do some serious credit card damage for one meal, though)! If you don't want to break the bank, The Cabin is a fabulous location for a romantic evening out–this East Village eatery has the charm of a country home and offers some of the best American cuisine around. The Cabin's entrées are meant to be shared and will have you and your partner drooling.
---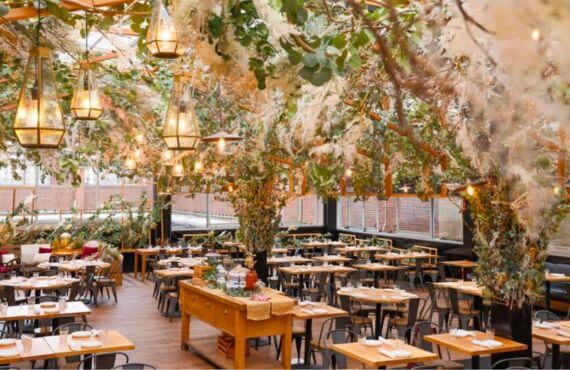 Flatiron, Manhattan
SERRA By Birreria is fantastic for a romantic dinner because of its rustic Italian atmosphere. This "greenhouse" restaurant on the top floor of Eataly in the very heart of New York City has seasonal menus and decor.
---
Williamsburg, Brooklyn, NYC
Dates don't always have to involve candlelight and dinner! Take your date on an impromptu trip to Brooklyn for a night of arcade games and a wide variety of rare artisan brews. The first Barcade, in Williamsburg, New York, debuted in 2004, and there are now nine other locations around the country. There are plenty of video arcade games and vintage pinball machines from the 1980s for you and your date to play.
Date number one? Playing some classic arcade games and a few rounds of pinball is a great way to break the ice and have fun while getting to know each other–no awkward silences here when you're playing Donkey Kong. The artisan beer streaming from the taps can't hurt the conversation flow, either.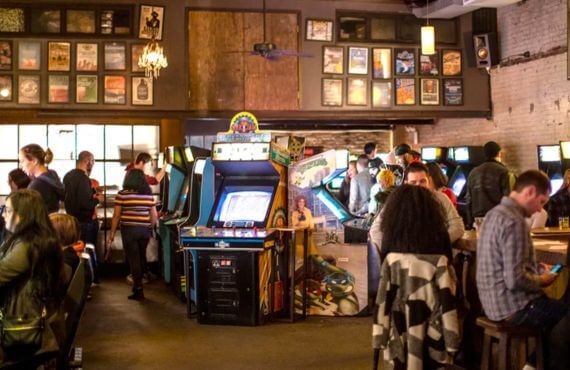 Or, if you'd rather skip the brews, Barcade is excellent for lots of friendly rivalries, whether it's date number one or ten. And if things are going well on a Friday or Saturday night, they won't kick you out until 4 a.m.
---
Tribeca, Manhattan
Looking for a unique restaurant for a fun date night? You should seriously consider checking out The Dinner Detective! Go for a delicious meal and the chance to solve a comedic murder mystery. The evening at this restaurant will be unlike anything else and will be the stuff of folklore between you and your significant other.
---
Bowery
Since 2009, Dirt Candy's award-winning chef, Amanda Cohen, has been making (and perfecting) a seasonal plant-based tasting menu that will impress both vegetarians and carnivores (meat-eaters, sorry that was a little aggressive).
When it comes to wine lists, Dirt Candy is among the top choices due to its focus on female-owned vineyards and wineries. New York Magazine called the vegetarian eatery the "absolute best," adding, "You don't need to designate this the very best vegetarian restaurant on the Lower East Side; it's the best place, full stop, to get a meal."
The restaurant's website states that the tasting menu costs $95 per person and does not accept tips but instead provides employees with living salaries, vacation time, and medical coverage.
---
West Village, lower east side, Manhattan
Real Southern Indian food is difficult to find in the United States, but Semma is an in-depth exploration of this cuisine–and it uses regional ingredients. The cozy dining area is ideal for sampling small appetizers and the house specialties, along with a specialty drink like the Silk Smitha, which is prepared with tequila flavored with cardamom, red peppercorns, and agave.
If you want a delicious shared dining experience for date night, Semma offers a Kanyakumari nandu masala dish for two consisting of Dungeness crab served with parotta and coconut rice–it's a show-stopping feast. This dish needs to be ordered ahead of time, and they may run out, as there are only limited quantities on any given night.
Despite the fact that Dungeness crab isn't quite as exotic as, say, Goanese oxtail, the tastes at Semma rarely fail to make a lasting impression. And if you want to walk off a little of your meal, you and your date can take a walk in the village to see the renowned brownstones and enjoy the evening air.
---
Takeaways
No matter your price point range or your palate pleasure, there is a restaurant for every taste when you're in New York City!
Yes, it can be a pain to travel into "the city," but trust us, it's worth the train ride. Not only will you get to have a romantic date with that special someone, but NYC is literally bustling with things to see and do before and after your meal!
If you're still looking for that "special someone" to experience ALL the places with, why not start with some of our best dating apps?