Have you given any thought to online dating for farmers? Well, you should! A farmer's life is slightly different compared to urban and suburban living. They have an entire agricultural ecosystem to care for, which comes with a lot of pressure.
They are up with the roosters crowing at daybreak, and most don't finish their grueling work until long after the sun has gone down. Whether raising and caring for living animals or tending and harvesting crops, it's a hectic yet rewarding way of life.
But one of the downsides of being a farmer is that they probably don't have much time to socialize or date–and when they reside in off-the-beaten-path rural areas, there aren't many places to meet a romantic interest. So with minimal free time and a lack of social settings, how can they meet and connect with potential partners?
Well, country guys and gals, we have the perfect way for you to meet someone special, and we will share our dating app expertise on the benefits of online dating for farmers!
Why Online Dating for Farmers is a Good Idea
There is a long-held stereotype about farmers, and you know you are picturing it in your mind: an older, grizzled-looking man in Carhartt overalls, driving a beat-up old Ford F150 up and down a country lane on his way to the one market in a town 30-plus miles away to get seeds for his crops and maybe a gift for his wife.
Erase that image from your mind–the truth is, a lot of men and women farmers are young and single and want to meet their soulmate–but their specific circumstances and location make it difficult.
And even if they are older, they may be single, divorced, or widowed and want to share their lives with someone!
The advantages of online dating for farmers are undeniable, particularly for those who live in remote areas where social opportunities are limited.
In any case, it's a quick and easy method to meet compatible folks you would not have met otherwise.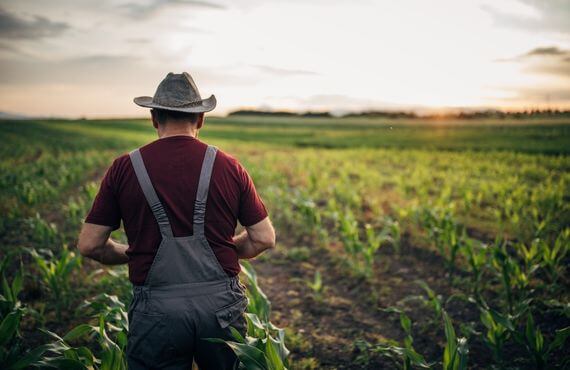 But how can you be sure to choose the best dating site when there are many options, especially specific niches like farmer dating apps? Finding love via online dating is all about picking the right dating site for your particular needs.
Do you choose a specialized dating app for farmers or go with a more mainstream one? That all depends on who and what kind of relationship you seek, so it will vary from farmer to farmer, but a dating app out there will work for you!
Benefits of Online Dating for Farmers
1. Easy and Effective
The internet is a fantastic place; we are forever grateful because it has brought us online dating apps! The ease of picking up your phone or opening up your computer and having tons of eligible singles at your fingertips is mind-blowing.
That's why dating apps are so crucial for farmers who live in remote locations: they can easily find compatible single, and while they may not live around the corner, they will be nearby.
Not only is it easy, but it's efficient: instead of having to locate, arrange, and actually go out on dates with people you may not connect with, you can pick and choose from singles online and chat with them before a date. This way, you can get a sense of a spark and, if so, agree to meet up. And if there is no chemistry, you can move on, and no time is wasted!
2. Online Dating is Less Expensive
Going out on traditional dates can get very pricey if you do it every chance you get or even just on the weekend. You'll have to spring for dinner, a movie, or any activity you and your date have planned. That's a lot of sharecropping!
Although online dating apps vary in price, in general, they're significantly less than traditional dates. In addition, many of them let you join for free with a limited membership to test out the waters before committing to a premium membership.
3. You're Not Limited by Where You Live
Online dating has made it possible for those living in remote places or small towns to meet people from around the world. All the more so for individuals who, like farmers, because of where they live, find it difficult to find potential romantic partners.
4. You Get a Preview of People
When going on a regular date, there is really no way of knowing whether the other person is being truthful about who they are. While that can be true with online dating profiles, you can get a better sense of a person, see their photos, and get a brief snapshot of their personality.
5. It's an Opportunity to Learn
Going out on a date and having nothing in common with the person is a bad time; there is no sugarcoating that fact. You feel like you've wasted time and money, and you may get frustrated thinking that you'll never find anyone you are compatible with, and you may throw your hands up and say, "It's easier to be alone, I quit."
Don't let disappointing dates dissuade you from getting back out there because online dating for farmers apps are an entirely different ballgame, and your stats will improve!
Think of every interaction and date as a learning experience: if you have a bad one, chalk it up to knowing what you don't want in a partner.
At the very least, you can up your chances of success using online dating as a stepping stone and a chance for personal growth.
Those who have been burned or hurt in the past may learn from online dating too–they'll have a much better idea of what they want (and won't accept) in a partner and will be better able to see glaring warning signs in their quest for love.
Conclusion
Online dating can help everyone, including farmers, in their search for love. It can point us to what we really care about and those who share our passions, increasing the likelihood of discovering someone we connect with deeply. If you're ready to give online dating for farmers a try, why not check out our recommendations for the best dating apps available!