Do you fondly recall movie scenes that seemed totally incandescent? Or are you an avid film junkie who often rewatches scenes that you find incredibly romantic, even if nobody else seems to agree with you? Well, then, you're in the right spot.
Throughout cinematography history, a few love scenes have stood out across a multitude of films in many different genres. We're not talking about the famous love scenes everyone has seen but the little-known, underrated moments captured by a keen eye for all to see and enjoy.
On our list, you're not going to find the iconic Titanic raft scene or anything from the much-loved Notebook. Instead, you're going to broaden your horizons and find a few new favorites to add to your rewatch list.
Some of the most romantic and underrated love scenes to grace the big screen are included on this list. Read on to learn the films you never knew you needed to add to your favorites.
We know that love scenes are not everyone's cup of tea. But suppose you're a die-hard romantic who watches every romance movie that hits cinemas (or goes straight to DVD or your favorite streaming platform). In that case, you'll love the underrated movie love scenes mentioned below:
1. Carl and Ellie's Memory Reel Scene – Up
An animated film has never been so simultaneously full of love yet so devastating as the movie "Up." During Carl and Ellie's memory reel scene, audiences are given a glimpse into what it's like to be old and look back on a love you once had. The flashback of Carl's relationship with Ellie was a charming look at the life of two individuals who remained loving and faithful to one another no matter what.
Not only will this scene bring a tear to your eye, but it will also have you holding your loved ones a little closer. So, this is definitely worth watching if you've got a soft spot for teary-eyed love scenes and animated films.
2. Proposal Scene With Travis and Gabby – The Choice
Nicholas Sparks' films are either adored or despised. We're still unsure which side of the fence we're on, but the incredibly romantic scene from "The Choice" has us leaning more toward love than hate.
If you're anything like me, you'll thoroughly enjoy Travis and Gabby's "encompassing" love story the most.
I've read the novel and watched the movie about their romance, and remembering it's being brought to life by talented actors always makes me want a rewatch.
Let me break down the scene so you can judge for yourself. Travis confesses his feelings to Gabby in a unique yet endearing way that evokes heady romance and yearning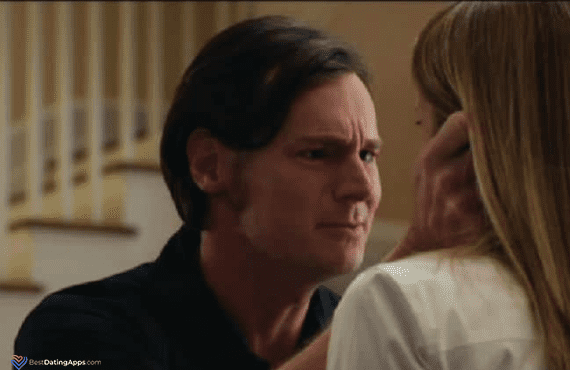 He hands her the ring and tells her, "I've said all the words; all I need is a lifetime to prove it to you." – if that doesn't inspire a watch, we don't know what will.
3. If You Knew Anything Scene – Ideal Husband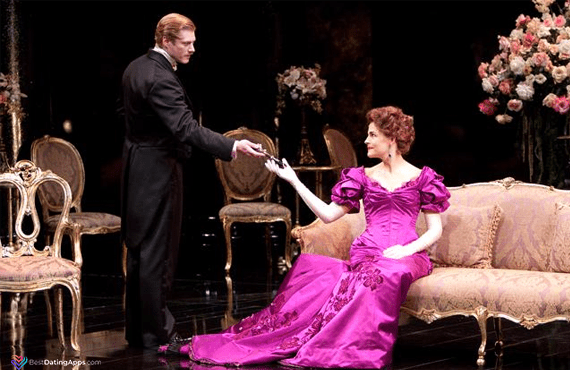 This tale from Oscar Wilde has always been a favorite of mine (and it might just become one of yours). The film centers on a gentleman who has climbed the ranks to acquire wealth. He is supported by his sister and closest friend. He seems to have a beautiful wife and a promising political career. When he unearths a hidden truth from one of his earlier challenges, a succession of amusing incidents occur to try and cover up the information.
As you might have guessed, the central romance doesn't involve the lead characters but the charming secondary ones. A do-they-like-each-other affair involving Mabel and Lord Goring occurs in the middle of all this.
When Lord Goring ultimately asks Mabel if she loves him during one of the concluding sequences, the film's fans almost melt into quivering puddles of need. The scene is heartwarming and possibly the best in the movie, which is saying something since this is a Classic.
4. The Permission Scene – Return To Me
This underrated movie love scene when the lead character Bob embarks on a date for the first time since mourning the loss of his first love is charming!
In addition to taking Grace to an extraordinary location, he asks Grace if he could hold her hand while confessing that he's awkward and unsure of how first dates should proceed. Talk about one hell of a "phoenix swiftly rising from the ashes of past sorrows" love scene.
5. The Six Smiles Scene – Win A Date With Tad Hamilton
This film is just too cute. It centers on two close friends who are both employed at Piggly Wiggly. Pete, Rosalee's best friend, thinks he might miss his moment to confess his unrequited love after Rosalee scores a one-on-one date with a movie star.
Following this, he lists the six various smiles Rosalee has; even though it's not directed at her, it's still a romantic moment.
This is because the way the movie scripts were written and acted indicates that he may understand her better than anybody else.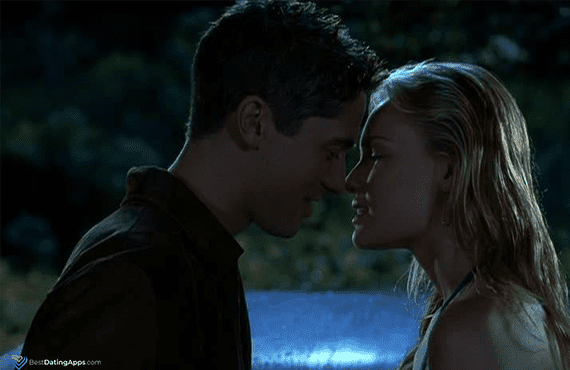 After all, he understands what each smile signifies. It ultimately showed how much he was the right choice for her because he knew her on a deeper level.
6. The Dance Scene – War and Peace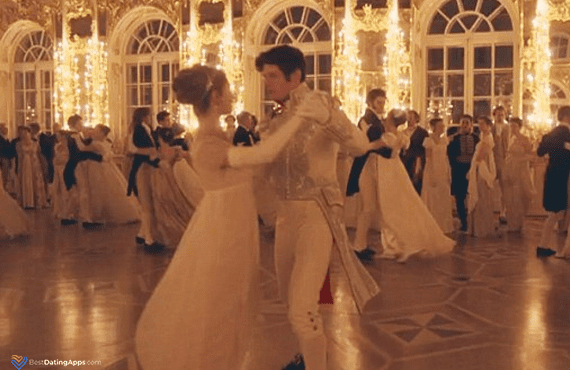 The dance scene in the film "War and Peace" is somewhat "controversial" because, in my opinion, it has nothing to do with the protagonists' romance. Instead, the "romance" of the scene is the focus. This scenario oozes romanticism in every way.
This scene has everything a magnificent love scene should have, from the location to the dancing, the dance contact around the waistline, the attire, and the lighting.
It's all incredibly romantic. Even if Natasha and Andrei don't have a strong romantic connection, the scene is nonetheless breathtaking. Yet, I hardly ever hear anybody discuss this historical drama.
7. The Love Less Scene – EMMA
You've likely guessed that I love romantic period dramas, and I hope you do too. This next scene is undoubtedly well-liked, yet I rarely hear people discussing it.
According to many critics and fans alike, the scene in the 2009 film "Emma" whereby Mr. Knightley shows up on Emma's back porch is perfectly executed to inspire feelings of love and new beginnings.
After some stops and starts, the two awkwardly reacquaint themselves. Knightley expresses his affections by, in essence, saying, "If I loved you any less, I might be able to talk about it more."
This single swoon-worthy phrase has earned this underrated love scene a spot on this list.
8. The Hand Grasp Scene – Pride and Prejudice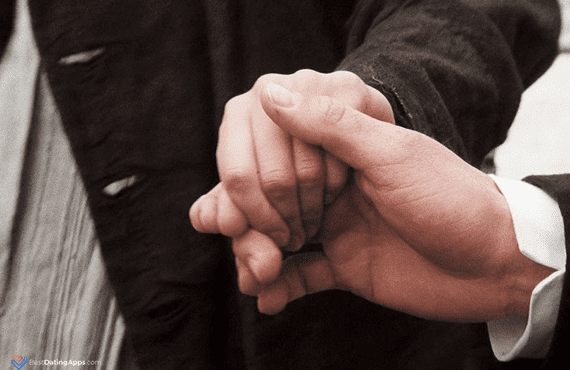 Recently, more people are discussing what has become (very fondly) known as "the flex" from the 2005 motion picture "Pride and Prejudice."
The scene plays out as follows: Mr. Darcy extends his hand to aid Elizabeth Bennet into her carriage as he wishes his uninvited guests farewell on the Pemberley driveway, brushing their hands together in the process.
Lizzy reacts unexpectedly, casting a quick glance at their hands joining and possibly feeling a connection to and attraction to Mr. Darcy for the very first time.
This small scene offers audiences a glimpse into what is sure to be an epic love scene.
Lo and behold, when Darcy and Elizabeth share their first REAL touch later in the movie, he walks out of the party. He returns to his home, "tensing" his hand as a physical and emotional reaction to his growing feelings of attraction and love to Elizabeth' the wrong sister." It's a back-and-forth romance of will they or won't they, and it's got many more underrated love scenes if you know where to look.
9. First Date Scene – Crazy Stupid Love
In the film "Crazy Stupid Love" there are many underrated love scenes. Still, the best one surrounds a dance and some lighthearted conversation.
After recreating the sultry Dirty Dancing lift scene, Hannah was prepared to engage in a light fling with Jacob, but real love conquered all.
Instead of getting hot and heavy, they made light of his HSN addiction. They chatted into the night, with filmmakers cleverly showing that they had intense feelings for one another.
By the time the film was nearing its end, they both fell in love. How sweet.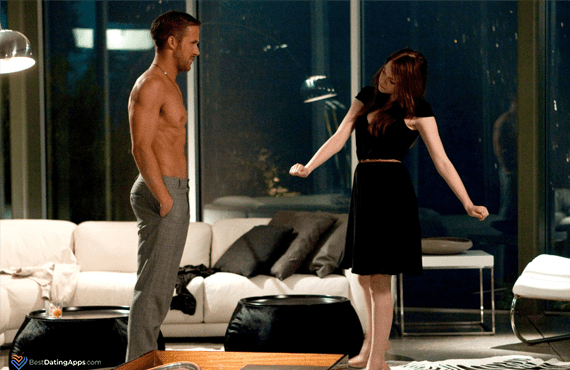 10. First Kiss In The Meadow Scene – Call Me By Your Name
Nearly every aspect of the heartwarming film "Call Me By Your Name" is immensely romantic, from the picture-perfect Italian location to the escalating sexual chemistry between Elio and Oliver.
Yet the underrated love scene that earned this film a spot on this list is their first kiss – which they had while reclining in a meadow during a bicycle ride.
This scene is on par with some of the most incredible movie kisses ever and isn't spoken about nearly enough, so give the film a watch, and you be the judge.
Wrap Up
Everyone agrees that the grand gesture at the end of a romance film—the ultimate declaration of love—is one of the best scenes. But the truly memorable moments are the love scenes leading up to the final confession.
So, we hope this list has given you a few underrated movie love scenes to put a smile on your face and ensure warm feelings fizzle through your veins before you reach the closing credits.